We manufacture and sell pvc curtains, industrial curtains,
plastic curtains and much more. View our main products below

Industrial PVC Curtains
PVC curtains are one of the most economical and efficient solutions to retain warmth or cold, and to prevent entry by birds and any kind of insects, while still allowing safe passage for pedestrians and motor-vehicles, find out more about Industrial PVC Crash Doors here.
They are very simple to install and even sliding options are now available on previously installed curtains. Munsch & Co. carry a large range of PVC Curtains and components required to make up doors or partitions.
Individual PVC curtains overlap each other to form a sheet that will cover any size opening yet still be accessible to any vehicle or pedestrian.
They have many benefits including:
Retaining warmth, or cool air

Increasing workplace safety

Clear so they will allow natural light to go through

Reducing or sustaining noise levels

Keeping birds and insects out
We supply smooth or ribbed in the standard grade, in sizes, 200mm x 2mm, 300mm x 3mm and 400mm x 4mm, with fully complete curtains having a red warning strip available for the edges.
The thicker gauges are designed normally for high usage areas i.e. where fork lift trucks are operating.We offer a full installation service nationwide if needed or alternatively we can ship the curtains to you already assembled.For larger installations we can always survey your premises first.
Reduce energy waste with Industrial Curtains
One of the largest expenses of running large industrial factories, warehouses or storage spaces come from energy waste. If you are looking for the most cost-effective method of reducing your heating bills, purchase industrial curtains from PVC-Curtains.com.
Industrial curtains are the most cost-effective and efficient way of reducing energy waste within a confined area. An industrial curtain consists of overlapping individual PVC strips which together form a flexible barrier against heat loss, vermin and noise, helping to drastically reduce energy expenditure and potential product contamination.
Plastic curtains (also known as industrial curtains) ensure that on-site health and safety is kept to a high standard. By offering clear visibility and removing fixed obstacles, industrial curtains are the most time- and cost-effective energy-saving solution for a busy storage environment, allowing goods to be transported with upmost ease and safety.
Tailor your industrial curtains to your needs
As every factory and storage space has its own particular characteristics, it is important that your plastic curtains are tailored just to your needs.
If you are operating a chilled area, freezer room or refrigerated vehicle, it may also be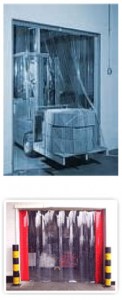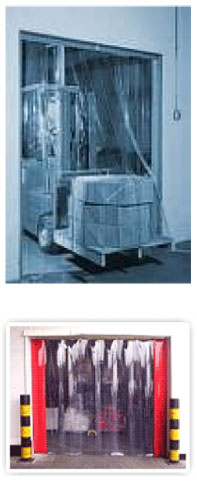 worth investing in polar grade industrial curtains, which significantly reduce energy waste by retaining chilled air within the enclosed space. Polar grade industrial curtains can withstand temperatures of up to -65°C and are ideal for any business that deals with refrigerated goods (or wants to keep air conditioning bills down!).
Industrial curtains are also an effective way of improving your health and safety measures.
Our PVC curtains enable natural light to pass through, improving visibility throughout your factory or storage space to highlight obstacles for forklift and pallet truck drivers.
To further improve health and safety, we also offer day-glo industrial curtains, which clearly highlight the edges of buildings, fire exits and doorways.
If you are struggling to fit your pvc curtains we offer a PVC Fitting Service.
Plastic curtains available in all shapes and sizes
Our plastic curtains come in the following dimensions: 200mm x 2mm; 300mm x 3 mm; and 400mm x 4mm. Thicker panels are generally recommended for high-usage areas which experience regular forklift or pallet truck through traffic. We also offer ribbed panels, which maintain good visibility by reducing scratching, in 300mm x 5mm and 400mm by 6mm.
Plastic curtains can be ordered with either hook-on or bolt-on fixings. Although bolt-on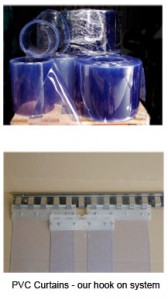 panels offer additional sturdiness, hook-on panels offer you the option of ordering the exact number of replacement panels you may require in the future, should visibility be affected over time by scratching.
Should you wish to avoid driving through your industrial curtain, we also offer the option of a sliding system. This consists of an additional track attached to rollers, which enable you to withdraw the curtain as you see fit.
Whatever form of industrial curtain suits you best, here at PVC-Curtains.com we offer a full nationwide installation service. Industrial curtains can also be dispatched ready for assembly. Please note, however, that any industrial curtains requiring additional steelwork or a sliding option will require installation.
For more information about industrial curtains, please contact us on 01625 573 971.