Get An instant quote Now!
Click below for and instant online
PVC Doors quote.
You can even buy your custom
curtains online in minutes.
Established over 40 years
Reliable, responsive & professional
Comprehensive product range
Technical knowledge
Invoicing facilities for established companies & education authorities
Full nation-wide installation service
PVC Doors to Reduce Energy Waste
Our PVC doors generally come in the following widths: 100, 200, 300mm and 400mm. Thicknesses vary from 1mm to 4mm depending on the width and grade of PVC selected. Thicker gauges are generally recommended for high-traffic areas which experience regular forklift or pallet truck through traffic and for particularly large doors. We also offer ribbed PVC, these maintain good visibility by reducing scratching. We offer the following ribbed grades, 200mm x 4mm, 300mm x 5mm and 400mm by 6mm.
We offer a full installation service nationwide if required. Alternatively we can ship the curtains to you readily assembled.
Plain PVC Rolls
All of our curtains come supplied with a choice of either hook-on or bolt on fixings.
Over time the curtains will become scratched, and the advantage of the "hook-on" system is that you can purchase the exact number of replacement strips you require. We will then ship them to you with the brackets on. Also they are easier to take down for cleaning or perhaps over the summer months.
The bolt-on fittings are better for high traffic areas or where high vehicles are passing through them.
We can supply curtains with a sliding option. This is ideal where you don't want to drive through the curtain, i.e. In garages. This consists of additional track with the curtain attached to rollers. You can have various configurations such as the whole curtain slides out of the way, half of it slides behind the other half etc. For details on this please call us.
The curtains are supplied in a choice of overlaps, from minimun overlap to max.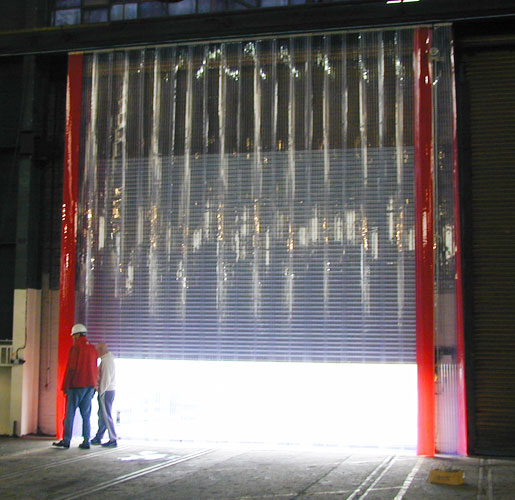 Polar Grade PVC Doors
Our Polar Grade is suitable for use in chilled areas, freezer rooms, freezer cabinets and refrigerated vehicles.
Recommended Temp -15°C to + 20°C
Cold Flex Temp -33°C
(The temp at which the curtain becomes hard but doesn't break)
We supply the following grades in Polar,  100mm x 2mm, 200mm x 2mm, 200mm x 3mm, 300mm x 3mm and 400mm x 4mm strips. These can also be slotted if required for additional flexibility, particularly for in front of chiller cabinets.
Assembled Door
We can supply the curtains ready made for you to install yourself, or alternatively we can install the curtains nationwide.
DAY-GLO/REDS – PVC Doors
We can supply made up curtains complete with red edge warning strips.
Also we now offer "Day Glo" edging as an alternative. This is designed as the ideal all-round health & safety addition to our flexible PVC product range. This product will not only clearly mark the edges of buildings / doorways for forklift truck drivers but will also clearly highlight fire exits and doorways 24hrs a day due to its "glow in the dark" qualities. This is therefore the ideal health & safety solution for 24hr working factories and warehouses etc, as it clearly ensures that all exits are highlighted should there be any loss of power.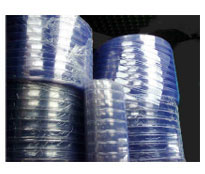 Ribbed PVC Rolls
The benefit of the ribbed pvc is that the section in between doesn't get scratched as easily as flat PVC thus ensuring good visibility and prolonging the life of the curtain.
PVC Sheet
We carry stocks of clear flexible PVC sheet in various thicknesses including:
2mm, 3mm, 5mm, and 7mm, in widths ranging from 1000mm to 2200 mm
Other sizes and colours are available subject to minimum order quantities.
Should you require any further information regarding PVC sheet material then please do not hesitate to contact us on 01625 573 971.
Welding Grade PVC
We can offer curtains designed specifically as welding screens. These are a green or amber colour and reduce the "flash" from welding equipment.
Try our PVC Price Calculator at the top right of this page for an instant online quote and to buy online.
Alternatively, please contact us for more information by calling 01625 573 971 or filling in the form above