Mobile Welding Screens
This self assembly welding curtain kit comes packaged in a carton, complete with everything you see below and can be erected within minutes. Full assembly instructions are of course supplied.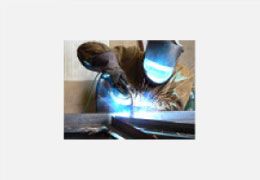 Self Assembly PVC Welding Curtain
The red PVC welding curtain comes already attached to the top hanging rail, therefore saving time with assembly. The curtain just simply rolls down and is kept in place by the screening clips, one to each side at the base. The legs are already attached, simply just twist and tighten. The frame comes complete with the familiar "click lock" operation; therefore ensuring quick and easy installation anywhere the screen is required
Welding is not always done in a set area of a workshop: there may be times when you need to work on location. A mobile welding screen is necessary to ensure the protection of anyone passing by the work area. The screen is easy to put together, with full instructions included should you need them. It takes a matter of minutes to have the screen fully erected.
The mobile welding screen comes with a PVC curtain attached to a hanging rail. In order to use it, you simply roll the curtain down and attach it to two screening clips at either side of the base. You then twist and tighten the legs, which are already in position, to finish erecting the screen. The click lock operation ensures that you will know when the frame is ready for use.
You can move the mobile welding screen to anywhere you require, making it useful for ad hoc repairs and working in situ. This is a health and safety requirement, which makes it possible for welders to work on the area in question without causing any risks. Choose the size you require from our range of available options, or get in touch to arrange a bespoke size.
Dimensions:
Frame size: 1510mm Wide x 1900mm High
Screen size: 1415mm Wide x 1580mm High
(Gap from floor to base of curtain 320mm)
Black powder coated 3/4″ steel tubing frame
Prices:
1-5 screens @ £79.99+ vat
6-20 @ £69.99+ vat
21+ @ £59.99+ vat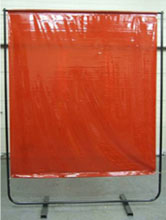 Please contact us for more information by calling 01625 573 971 or filling in the form on the right.