PVC CURTAINS
Fitting Instructions
PVC CURTAINS
Fitting Instructions
PVC curtains are pretty easy to install. 
Our PVC curtains generally come supplied with all the fittings, including hanging rails and either hook-on, or bolt on plates. The only additional fittings you need are appropriate screws or bolts to attach the curtain rail to the structure of your opening.
The strips will be supplied slightly over the final fitted length to allow for trimming once the curtains have been installed.
This is because, as the PVC strips are cut from a roll they tend to be slightly curved, however, once hung for a couple of days, the curvature will drop out allowing the individual strips to be easily trimmed with a sharp knife or scissors.
If you have ordered a hook-on system, you will have the required number of hook-on top track/s and the individual PVC strips will be supplied with a hook-on plate attached, either stainless steel or polycarbonate depending on your order.
Depending on the overlap you select, minimum or maximum, will dictate how many strips of PVC you will receive.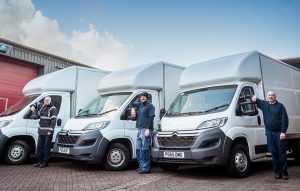 Nationwide Installation Service
On occasions you may have a particularly difficult or complex  requirement for PVC curtains, or you simply may not have the resources to install them. Fortunately we are one of the few PVC suppliers who offer a nationwide installation service, so you can leave it in the hands of our expert installers. Covering all aspects of fitting, from straightforward doors to complicated shapes requiring additional steelwork, our competitive rates are sure to appeal. If you would like more information simply give one of our team a call on 01625 573971.
With the bolt-on system, you will receive the required length/s of bolt-on track/s, L-brackets to attach the track to the wall or soffit, together with the required number of plastic strips with holes drilled in them to match the bolt-on aluminium face plates.
The instructions below cover all aspects of PVC curtain installation and can be followed whether you have bought a made to measure curtain or individual components. N.B. Some steps may not be required with a made to measure curtain.
We stock many different colours and grades of PVC including anti-static, Polar grade for freezers, coloured options, welding grades etc.
Installation Instructions

Hook-On System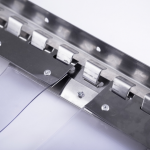 Installation Instructions

Bolt-On System
Face Fixed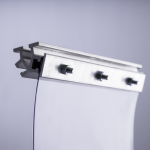 Installation Instructions

Bolt-On System
Soffit Fixed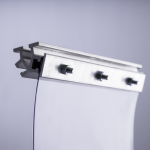 Installation Instructions
Sliding System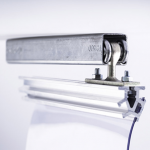 Simply fill in the enquiry form below or give us a call on 01625 573971, and one of our experts will give you all the advice and guidance on our PVC curtain and crash door range.