Ribbed PVC Rolls
Standard/Polar
Ribbed PVC Rolls
Standard/Polar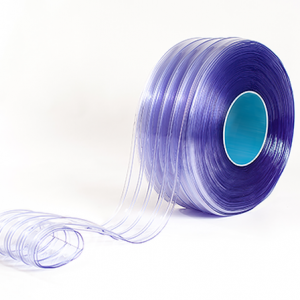 This grade of PVC is our ribbed design and is available in standard or polar grade for freezers.
Ribbed PVC is commonly used in high traffic areas, especially where forklift trucks or other vehicles operate.
The great thing with Ribbed PVC, which is commonly referred to as bumper strip, is that the ribs extruded in the the PVC act as a barrier and reduce the amount of scratching caused by vehicles in busy areas. This prolongs the life of the PVC as it stays clearer longer than traditional flat grades, in the long term, saving you monay. 
We supply Ribbed PVC in 3 widths (200mm, 300mm & 400mm) and a choice of three thicknesses (2mm, 3mm and 4mm). These grades still allow ease of access for both vehicles and pedestrians too, also, clarity loss is minimal, as the ribs are narrow.
Simply give us a call or fill in the enquiry form below or give us a call on 01625 573971, and one of our experts will give you all the advice and guidance on our PVC curtain and crash door range.