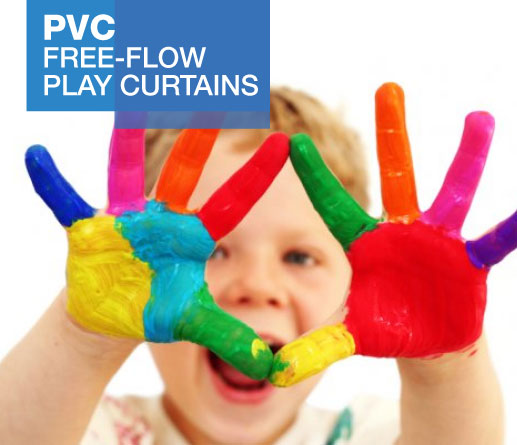 PVC Free-Flow Play
Curtains for Doors
Children need plenty of free choice of activity in order to play. They also need a suitable environment to play in. A restrictive play area makes it very difficult for them to develop deep-quality free-flowing play.
Following consultation with various schools, play groups, nurseries and following government recommendations Munsch and Co were the first company to design, develop and supply "FreeFlow Play PVC Curtain Kits"
Unlike some of our competitors who have jumped on the bandwagon, our FreeFlow PVC Curtains have been tried and tested in hundreds of schools, nurseries' and play groups. Following feedback from our customers, our kits are made from individual, 100mm wide, extruded, 2mm PVC with rounded edges, unlike some who either skimp on thickness by offering thinner grades, or cut strips down from wider gauges, leaving a sharper edge than our rounded strips.
Our 'Free-Flow Play door kits' are priced at £123.75 +VAT,  including delivery to UK Mainland for a standard door size (985mm, 38 ¾"wide x 2130mm, 7' (Approx) high)
The door kits are simple to erect and are constructed from a light weight clear PVC which has been specifically chosen for nurseries and child-friendly environments. The special 100mm wide PVC strips are an excellent insulator and are very light weight, ensuring a minimal loss of heat coupled with ease of movement for even the youngest children. Furthermore the strips are attached to their rail via a clever hook-on system which allows for easy removal of the curtains (i.e. during the Summer months) whilst being secure enough to withstand the most mischievous of children.
If a wider curtain is required simply pro-rata the above price. E.g. for a door 1500mm wide the price works out at £185.63
Please contact us for more information by calling 01625 573 971 or filling in the form on the right.