Fly and Insect Screens
We are suppliers of high quality insect screens and screening systems for both trade and domestic applications. We offer a choice of either supply only screens or a nation-wide supply and fit service.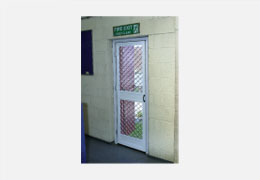 Insect screens and screening systems
We have designed our fly screen systems to operate effortlessly with all types of window and door while offering maximum protection against flying pests.
From our workshops, we can manufacture and install on-site anywhere on the UK mainland, thereby offering a unique made to measure service!
Munsch and Co. offer all our customers a full "spares & repairs" service with all our products.
Benefits Of Insect Screens
There are many different types of insects, flies and beetles which find their way into the home and as such, there are many different mays of combatting this issue. Unfortunately, most of the insect repellents, fly traps and insect lights are effective against some insects more than others and until the insect is actually drawn into the trap, you still have to put up with them bussing around and spreading bacteria all over your home.
Although a lot of these products are incredibly effective, surely the easiest and most humane option is to stop them getting in in the first place. It's not that most us have much of a problem swatting troublesome flies or insects, but at the same time who needs a trail of dead flies all over the kitchen sides? Once they are inside, they are already spreading bacteria. Thankfully there are a number of products which take away the need for repellents and traps, but also a few other handy properties as well. Probably the most popular forms of these are the door fly screen and insect screens. So what are different types of door fly screen and how can they benefit your home or business?
Mesh Screens
Whatever the design of the insect screens, most of them have one thing in common, which is that they are made from aluminium mesh. Aluminium is lightweight and doesn't rust, making them perfect for the ever changing British weather. The aluminium mesh comes in a variety of different size meshes which are suited to tackling certain insects and situations. Although insect screens come in a variety of different designs, most of them can be made from different meshes depending on what you need them for. A standard sized mesh is generally 16 x 18 which is small enough to keep out most kinds of flies, insects and beetles, but will not be small enough for most midges. If you live near water, then midges might be a bit of an issue. In this instance you might choose to go for a finer mesh, 20 x 30 mesh, which is effective against pretty much any insect. The only downside to a fine mesh is that it will not stand up to large rodents and animals like cats and dogs. In a situation where you want to keep animals out, or even pets in, then a more heavy duty door fly screen suitable for pets would be your best bet.
Fly and Insect Doors
The most common door fly screen has been used for decades in many countries around the globe, but has never really been popular amongst Brits. This fly door screen is effectively a secondary door made from a frame and your choice of mesh size. It opens independently from the main door which allows you to leave the outer door open to allow fresh air into the house, but also help to keep your home a fly free environment. This design, much like any design, can be made to fit almost any door or window frame, can also be fitted or come with a kit for you to install yourself. This fly door screen can be used on an outer door, in a pantry or larder, or even between rooms if you want to keep pets confined to a particular space. It is more effective than a stair gate for larger pets like dogs as there is no way of them jumping over, but allows you to keep an eye on them while maintaining airflow around the house.
Mesh Curtains
Mesh curtains are another popular form of fly door screen, being much less restricting than the previous design. These insect screens are great if you have pets running in and out of the house, as they can prevent access to small rodents, insects and flies without restricting larger animals from getting through. These mesh door fly screens are effectively strips of mesh which are sewn at the edges to remove sharp points and hung together to form a seamless barrier. The weight of the aluminium mesh allows the curtain to fall easily back into place once you have passed through it, but also the flexibility of the mesh allows the curtain to be rolled up when not in use. These mesh curtains are the ideal insect screens when you have children and pets playing in the garden as they do not restrict access for larger animals and children. These mesh curtain insect screen do not have to be used over doors, in fact they are also very effective over windows as they act like net curtains, but also keep out flies and insects. If you have a finer mesh curtain, you can also have a UV filter built in in order to protect animals from getting harmed by the sun's rays.
The Roller Screen
The roll out door fly screen is almost an amalgamation of the two designs as it acts a bit like a roller blind. These are wide strips of mesh that are rolled into a protective housing cassette which is spring loaded, generally each strip of mesh covers a single window or door. This is attached above the door or window you want to cover with your insect screen and when you want to put it in use, you simply roll out the door fly screen or window screen and clip it to the bottom of the sill with the mechanism provided, be it a magnet or a clip. Once you are done you can simply unclip and the mesh screen will roll back up into the protective housing automatically. These are a more expensive screen and so are not as popular as the other two, although they are much subtler in design. The protective housing removes the need to take down the insect screen at all, unlike the other two designs which are completely removable.
Please contact us for more information by calling 01625 573 971 or filling in the form below.