Reducing Costs with industrial curtains
There are many ways industrial curtains can reduce costs of a business's outgoings, both in general terms and indirectly through saving money on energy bills. With the current economic climate being what it is, almost everyone is looking for ways to reduce their budget. Often this can mean cutting staff, lowering advertising budgets and many more unsavoury and unproductive adjustments. This doesn't
necessarily have to be the case though, there are many ways of saving money through conserving energy through methods such as using energy efficient bulbs for lighting, ensuring doors close automatically to avoid wasting heat and paying closer attention to expensive outgoings including air-conditioning and heating. Of course these are only a small proportion of the changes you could make and not all of them are suitable or even achievable for some businesses. This is where industrial curtains can come in very handy.
Industrial curtains within the manufacturing sector
It is very difficult for most people to even fathom the cost of energy bills in commercial premises such as warehouses, storehouses and factories. Huge wide open spaces, very little insulation and often single glazed windows cause the cost of running the premises to skyrocket even without taking into account any heavy machinery and electrical appliances. Industrial curtains have become almost a necessity in these kinds of premises as they allow quick and easy access from each side while acting as a partition wall. Often in warehouses and factories the large space is split into sections in order to provide different environments for different aspects of the business. These are usually created using meal sheeting to create a partition wall, with large open access ways for small vehicles like forklifts and pallet trolleys. These large gaps in the partition mean that heat disperses very quickly from area to area, which is especially frustrating and costly when the two rooms have different ambient temperatures.
How are industrial curtains made?
Industrial Curtains are made from individual long and narrow sheets of transparent PVC, which when hung form a seamless curtain which has incredible insulation properties. Industrial Curtains are a great insulator of heat, which means when placed in an access way such as the ones required in a partition wall you can maintain a different ambient temperature each side of the curtain. This means that you can keep products that require a different storage temperature to be kept together in the same warehouse while still having full and unrestricted access. Even if this is not a requirement for your products, the energy saving potential of having an industrial curtain makes it a great investment for saving money in the longer term, though the benefits will be seen from the moment the curtain is installed.
Insulated Doors vs Industrial PVC Curtains
Some of you may be asking why you wouldn't opt for an insulated door rather than a PVC curtain? Well first of all the cost of a physical door and the installation is pretty high when compared to an Industrial Curtain, so immediately the PVC curtain comes out on top. Not only this but if you have a manual physical door then you have the issue of opening and closing the door, which wastes a lot of time for the operators of small vehicles so decreasing efficiency and productivity. Also you have the issue of the time it takes to open and close the door will already have allowed a fair amount of heat to disperse. Automatic doors are also an option, although as you might imagine if a manual door costs significantly more than an Industrial Curtain, an automatic one may just break the bank. On top of this an automatic door would open to the full extent of the gap in the partition thus causing heat to disperse.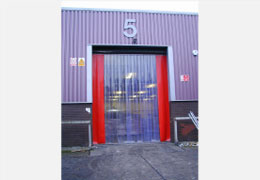 Installation of Industrial PVC Curtains
With an Industrial Curtain the strips of PVC are heavy and flexible enough to fall together without any gaps, but still light enough for a small vehicle or pedestrian to push through with very little effort. As such it would only have a gap the size of the object passing through it, leaving very little space for the heat to disperse. Due to the weight of the PVC
strips the Industrial Curtain actually returns to the correct position in a matter of seconds, quicker than even an automatic door. There is another aspect that should also be mentioned here, that being the installation time and cost of the different options. The installation of an industrial curtain takes very little time at all and is pretty straightforward. Unlike any kind of door there are much fewer complications that can arise in hanging. The installation is very quick and will hardly effect your day to day business, which could not be said about installing an automatic or even manual door.
Benefits of industrial curtains
Another long term benefit of industrial curtains is the low level of maintenance required. As they are made from PVC, the strips are strong and durable so they will rarely sustain any damage even when in constant use. If something was to damage a strip or two then they can be replaced very easily. As each strip of PVC is a separate piece of the curtain, the strips affected can be switched in a matter of minutes. If anything goes wrong with a door, whether automatic
or manual, the cost, waiting time and re-installation time will be a pretty hefty ordeal.
The only maintenance consideration with the industrial curtain is maintaining visibility on both sides for health and safety reasons. This simply involves wiping down the sheets of PVC every so often as required. If the industrial curtain was for a commercial premises dealing with food then the curtain would need cleaning daily, but that's still pretty low maintenance.
Final note on reducing costs with industrial curtains
So if you are looking for a way to save some money without making cutbacks, an Industrial Curtain could be a good solution to this problem. Industrial curtains are generally provided in stock sizes for premises such as warehouses and storehouses, however they can also be made to fit should you require a specific size. For more information on sizing and types of plastic curtain, you can view our range of PVC Curtains on our home page.