In order to make schools as safe, fun, and open for learning as possible, it's sometimes important to try new materials and change the environment. One way to do this is to use PVC curtains to create a free flow play area, where children have access to both indoor and outdoor environments.
Why is free flow important?
Being able to play both indoors and outdoors gives children the chance to grow up with healthier bodies, getting more exercise as well as breathing fresh air and feeling the benefits of natural sunlight. It will also help to stimulate any child's learning and growth more, as they have different environments to explore. This can help them to develop faster both mentally and socially.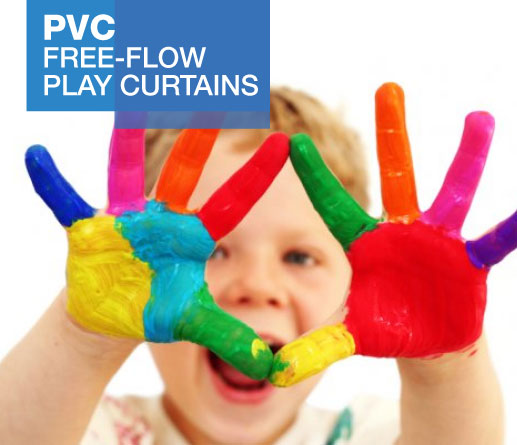 How can you create a free flow play area?
The common choice for schools is to simply have an open door. This door can be closed when it is raining outside or the children need to focus on indoor lessons, but left open whenever it is fine to play outside.
However, there is a big problem with this option. The open door presents both a hazard and a waste of money. Heat flows outside in the winter, costing huge amounts of money in wasted energy, and cooled air does the same when it gets too hot in the summer. Insects, rodents, and other small pests can also get inside the classroom and therefore the rest of the school, meaning it is not as safe as a classroom with a closed door. On windy days, leaves and litter can blow into the classroom – while pupils' work can drift out on the breeze.
How do PVC curtains help?
There are a number of great benefits to having PVC curtains installed. They can be placed on the inside of an existing door, rather than having to replace the door completely, so you can still have a closed door when you need to.
Reduce noise and air pollution
They reduce noise and air pollution greatly, stopping smells and shouts from drifting in to distract students when they are supposed to be working. They also serve as a physical barrier which stops insects, small pests, and leaves or litter from coming in and out whenever they would like to. On the other hand, the curtains are also soft and light enough that children can run in and out as much as they like without any problems.
Classroom environments
From a health and safety perspective, PVC curtains can also be very helpful in the classroom environment. Their very nature means that any clumsy children will be safe, as falling into them, walking straight through them, or catching hold of an edge won't cause any injuries – they will simply give way. They are also easy to clean, with a simple wipe-down with a sponge normally being enough to clear dirt and germs away.
Heat retention
They also, critically, keep heat and cold air from moving too much through the area. While there will still be a minimal amount of heat transfer due to the fact that the doorway is not completely sealed, it will be much less than in  normal circumstances. You also don't have to rely on children remembering to close a door, as the PVC strips will just fall back into place whenever someone passes through!
For a free flow environment which encourages children to enjoy both the indoors and the outdoors, it doesn't come much better than PVC strip curtains. They will vastly improve the quality of your pupils' learning and growth through play.